The Primrose Hourglass is a very common item available in the
Fairy Forest
. This skips a game day. You must buy this item with
passes
unless you set a trade with another player. This item is often abbreviated as the, 'PH', 'Primrose', 'Hourglass', 'P. Hourglass', 'Primrose H.' or the 'thing to speed up time'. The picture of the Hourglass, is simply an hourglass with leaves or little petals inside. As well, just like many other FF items, the Primrose Hourglass sparkles.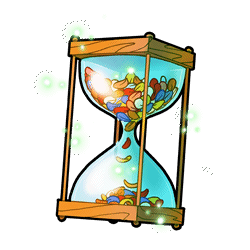 The Hourglass is available for purchase in the Fairy Forest for 1 pass. The Fairies at the Forest will give you a deal of 5 Primrose Hourglasses for 1 pass. Basically what they are offering, is a pack of Primrose Hourglasses, only for 1 pass. However, if you use these too frequently, you will run out quicker. If you happen to run out of Hourglasses, you can buy more, trade, or find more. You will also most likely receive some Primrose Hourglasses, when you send your baby off to school. That is possible if you pass the uniform quiz. Once you start the game, you will get free hourglasses for your baby.It is also possible to get one if you find your babys snuggly,although not very common.
Trading Primrose Hourglasses Edit
You can also trade other items for Primrose Hourglasses. Or a godparent can give your baby Primrose Hourglasses. And sometimes people give you hourglasses, but this is a very,very, very rare occurance. Someone gave me 20 hourglasses once! Also you will often hear Primrose Hourglasses being reffered to as PH's.
The Primrose Hourglass is one of the most commonly used item in the Fairy Forest. As well, it is one of the less valuable items. That may be so, because you can obtain this item almost everywhere in BabyDow. You can even get these hourglasses when you find lost snugglies!
You might also hear the hourglasses being refered to as 'Elfin Slippers' this is because hourglasses used to be called Elfin slippers. Only older players will remeber them being called this though as they were changed 1 or 2 years ago.