The Daisy Purse, is basically the same thing as the
Butter Cup Purse
, but instead of beads, it is for the reserves of your
nursery
. This product can be bought in the Fairy Forest, and can be bought with passes. The Daisy Purse can be known as the, 'DP', 'Daisy', 'Purse' (if not referring to the Butter Cup purse), or just the 'Purse for the nursery'. It gives the impression of a sack tied shut with two daisies on the top.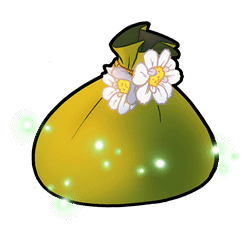 Purchase
Edit
To purchase a Daisy Purse, you must first go to the Fairy Forest and go to the For My Nursery Tab. This purse costs a value of only one pass, just the same as the Butter Cup Purse. Really it is not only 1 pass, it will cost 2 passes if you would actually like to use the purse. (Most likely you will, because then what's the point of buying it?)
When using the purse, you must 1st buy it from the Fairy Forest, then you can have the option to use your other pass (if you have one, which it is recommended to...) and then 500 reserves will be credited to your nursery.